Nörten-Hardenberger Beers are something special:
Because they are made for people who like genuine authentic beers. For you for your friends and your neighbors – just for everybody. A real taste which will convince you due to the beer variety that meets something to each event. Enjoy!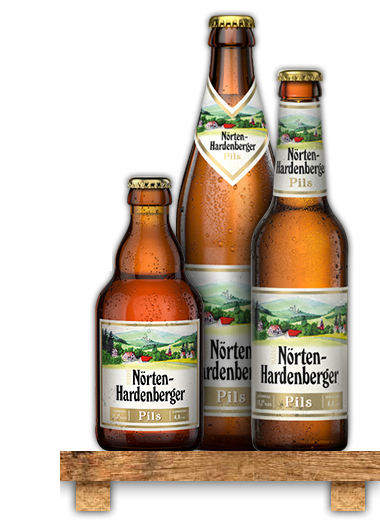 our Pils
Awarded a DLG medal. Brewed according to traditional recorded original recipe. The popular, genuine and straight Pils character.

original gravity: 11.2%
ABV: 4.8%
available as:
500 ml bottles
330 ml bottles
500 ml cans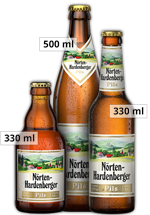 our Lager
The spicy bottom-fermented specialty to all beer lovers. Smooth and full of body alike.

original gravity: 12.3%
ABV: 5.2%
our Weissbier –
sparkling and fresh in taste with natural yeast turbidity.
Cool enjoyment – not only on hot days.

original gravity: 11.7%
ABV: 5.0%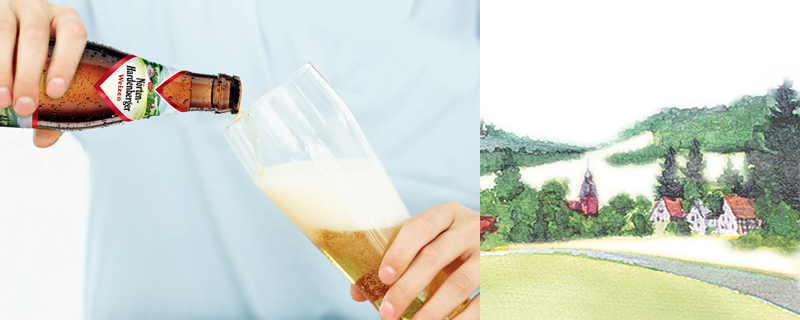 Contact
Einbecker Brauhaus AG
Papenstr. 4–7
37574 Einbeck
Tel.: 05561 797-2
Fax: 05561 797-119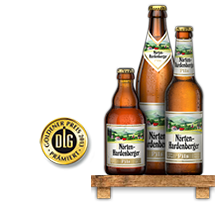 Einbecker Brauhaus AG
Papenstr. 4–7
37574 Einbeck
Tel.: 05561 797-2
Fax: 05561 797-119
info@einbecker.de

Chairman of the Supervisory Board
Robert A. Depner

Managing Board
Martin Deutsch

Company Headquarters
37574 Einbeck

Commercial Register
District Court Göttingen, HRB 130999
VAT ID No.: DE114764384

Conception, Design & Implementation
Hoffmann Schalt & Cie. GmbH, Werbeagentur
http://www.hoffmann-schalt.de/

Hosting
Ballensiefen IT-Systeme e.K., München
https://www.ballensiefen.net/

Copyright
The contents and works created by the page operators appearing on these pages are subject to German copyright law. Third-party contributions are identified as such. Reproduction, editing, distribution and any other use outside the limits of copyright law require the written consent of the relevant author or creator. Downloads and copies of these pages are only permitted for private, non-commercial use. The operators of these pages endeavor to observe the copyrights of others at all times and/or to resort to works that the operators have created themselves, as well as license-free works.

Data Protection
Where personal data (e.g. name, address or e-mail addresses) are captured on our pages, this shall always be on a voluntary basis, wherever possible. The use of offers and services shall always be possible without providing personal data, wherever this is possible. We would like to point out that data transfer over the Internet (e.g. e-mail communication) may present security vulnerabilities. It is not possible to provide complete protection against third-party access to data. We hereby expressly object to third parties using the contact details published within the scope of the legal notice obligation to send unsolicited advertising and information. The operators of the pages expressly reserve the right to take legal steps in the event of unsolicited advertising being sent, for instance via spam e-mails.

Google Analytics
This website uses Google Analytics, a web analytic service provided by Google. Google Analytics uses "cookies" (small text files), which are stored on your computer and allow your use of the website to be analyzed. The Information generated by the cookies about your use of the website (including your IP address) will be transmitted to and stored by Google on servers in the United States. Google will use this information to evaluate your use of the website, to produce reports on website activities for the website operator and to provide additional services associated with the use of the internet and website. Google may also transfer this information to third parties where required to do so by law or where third parties process this data on Google's behalf. Under no circumstances will Google associate your IP address with any other data held by Google. You may prevent the installation of the cookies by selecting the appropriate settings on your browser. By using this website, you consent to the processing of data about you by Goggle in the manner and for the purposes set out above.